A Cultural Action Organization And Resource Centre for Mass Awareness
"Natya" means theatre, "Chetana" means awareness. A group of young theatre students of drama department- Utkal Sangeet Mahavidyalaya, (the only degree college of performing arts in the state of Orissa), started doing a Theatre Research under the guidance of Subodh to develop method of plays to draw the attention of the audiences towards the subject of a play.
The concept of the organisation emerged after performing an improvised play named 'Bana Manisha' (Wild Men), in the year 1986. It was in a slum of Bhubaneswar during NSS (National Service Scheme) camp. This play provoked audience to think about the subject instead of enjoying the form and Subodh was provoked to think about a mission and that is 'Natya Chetana'

WELCOME TO PARTNERS /DONORS WHO THINK GLOBALLY AND ACT LOCALLY
NATYA CHETANA is in search of partners on theme like: Women's Empowerment, Environmental Protection, Issue of Economic Exploitation, Cultural Degradation, Break of Unity (like: Communal Tensions, Party based political divisions etc…). NGOs of similar agenda, Educational Institutions like University, Social or Cultural Action Networks, who THINKS GLOBALLY could be our Partners to support our ideas to ACT LOCALLY. Please take note that - we must take care of the Mental preparation of the mass, the invisible foundation, before undertaking any visible action of changes. Theatre and Media Action does that. For possible projects click here. For immediate contact Email us to : natyaindia@gmail.com
Coming Soon!
PEOPLES THEATRE FESTIVAL WITH SPECIAL ATTENTION TO MASK
23, 24, 25 MARCH 2016
Evening Performances by Traditional Odisha Mask Dancers, Modern Indian Play by Nahalee from Kolkata, Traditional Theatre Ram Lila (a part) from Sialia, Khorda. Gurushree Shasadhara Acharya will direct - Acting workshop of Navarasa, being behind a mask.
CAN ENJOY HOLI WITHIN ARTISTS DURING THE FESTIVAL
IT WILL BE A CHANCE TO FEEL THE ENJOYMENT AS WELL AS PAIN TO BE A MOTHER OF A PLAY; A GROUP METHOD TO INNOVATE IDEAS….. A CHANCE TO LEARN AND REALISE…..
Natya Chetana is planning to create a new theatre production : NIAN ( The Fire), talking about sociology, politics, economics, culture and myth around Fire. Stories will be displayed connecting those. For this there will be a phase of survey and research from April 2016, The play will be constructed in following days. Artists interested to join from national or international arena are also having a scope.
CONTACT BEFORE YOU APPEAR……
NOTICE
Special production oriented theatre workshop at natyagram (odisha) exclusively for tribal artists Read More..
Indian Theatre School
Natya Chetana declares opening of Indian Theatre School. For more details please Contact...
Theater Village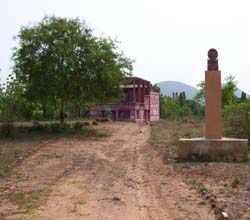 In 1990, Natya Chetana visualised to build up its community living in a village set up and could find a barren and lonely land near the town Khurda, 30 kilometers away from Bhubaneswar. It has been developing very slowly and gradually, without any Government or Corporate support. The name of this new village is named as Natya Gram (Theatre Village).
Natya Chetana At A Glance
Name of the Organisation :
NATYA CHETANA (Theatre For Awareness)
Place :
Bhubaneswar, in the state of Orissa, in India (East Coast)
Date of Establishment :
10th November 1986
Legal status :
Registered in India under Society Registration Act, Foreign Contribution Regulation Act, Income Tax Act
Contact person :
Mr. Subodh Patnaik, Director of Natya Chetana
Address :
N-3/ 432, Nayapally Lottery Plot Area, IRC Village , Bhubaneswar, Orissa, India - 751015
Email and Phone contact :
Phone : +91-(0)674-2555400
Fax: +91-(0)674-2555300
Mobile: +91-9437055590